Our Best Selling Add-Ins
Shopping Cart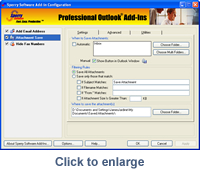 Are you thinking about getting Attachment Save, Add Email Address, or Hide Fax Numbers add-ins? If so, then the Power User Bundle may be what you need. It includes three of the more popular add-ins for a single low price!
The Power User Bundle comes as 3 separate add-ins. You get:
Click on any of the above add-ins to find out more about the features of each one. They all work with Outlook 2000 or higher, including Outlook 2010 64-bit. We think you'll find that these add-ins form part of a reliable and flexible Outlook.
This bundle was created specifically from customer requests because so many customers have asked for a bundle that enhances normal everyday Outlook use, and wanted a cost effective but complete solution. We think that this is it.
At only $54.95, it's like getting Attachment Save almost free! Take advantage of it today by adding it to your cart by selecting the "Add To Cart" button below.
Don't forget: At $54.95, that's more than 30% off the price if purchased separately. And if you purchase online, you can be using your new add-ins minutes from now!
More Information: Why did we include these three add-ins as a bundle?
By examining many customer requests and purchases over time, Sperry Software is able to discern common patterns in purchasing. These patterns have lead us to create a bundle deal that allows users to overcome space limitations in PST files, prevents fax numbers from being seen in the "Select Names" dialog box, and puts the ability to add email addresses as contacts back into Outlook.
Can I make a substitution in the bundle?
Sorry, no. However Sperry Software does offer other bundles, including the Eliminator Bundle and the Business Bundle. In addition, if you purchase the bundle plus one other add-in, you will qualify for the 10% discount.
Home, Corporate Sales, Federal/State Sales, Our Guarantee,
Upgrade Policy, Privacy Policy, Sitemap, About Us, Blog, KnowledgeBase
Questions or problems regarding this web site should be directed to

[email protected]


Copyright © 2001-2015 Sperry Software, Inc. All rights reserved.
Microsoft Outlook ® and Microsoft Outlook Express ® are a registered trademarks of Microsoft Corp.
Chat with our Sales Team!