Our Best Selling Add-Ins
Shopping Cart
Follow-Up Reminders Add-In

for Microsoft Outlook
For Outlook 2013 | 2010 | 2007 | 2003 | 2002 | 2000

SKU: A68452




Highlights:

Notifies you if you have not heard back from someone
See a list of all your pending reminders with a click of a toolbar button
Add follow up reminders to any email in any Outlook folder
New! Revamped interface including new quick snooze buttons
New! Automatically create an Outlook appointment or task when sending the email
Are you sure that you heard back from all of your sales contacts? Stop missing sales opportunities! The Follow Up Reminders add-in will automatically remind you of people who have not responded to your email messages. You can easily view your original message or compose a reply email without a lot of searching or re-entering of information. You're becoming more and more busy with each day...use the Follow Up Reminder add-in to stay organized.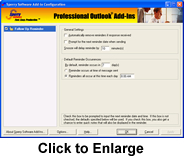 Features of the Follow Up Reminder add-in include:
Easily schedule follow up reminders with a click of the "Send With Follow Up Reminder" button
New! Create an outlook appointment or task each time you use the "Send With Follow Up Reminder" button
Add follow up reminders to any email
Optionally ignore CC recipients to allow you better control over who hasn't responded
Creates a separate reminder alert per recipient and per subject
Variable quick snooze times on the reminder allow you to hold off until you're ready respond
Send a follow up email based on the reminder email right from the alert window
See all your pending reminders in a grid format
New! Print the grid of pending reminders
Ability to snooze the reminder, dismiss the reminder, or view the email that caused the reminder
Add notes to your pending follow up reminders for easy recall of why you're setting the reminder
Automatically cancels the reminder if you hear back from your contact in email
Integrates directly into Microsoft

®

Outlook

®

for easy access
Works with Microsoft Outlook 2013 and 2010 (both 64-bit and 32-bit), Outlook 2007, Outlook 2003, Outlook 2002 and Outlook 2000
Reminder alarms popup with the subject of the email, who it's from, sent date and any quick notes you added to the reminder to make it as easy for you to recall that important follow up sales email.

New! You can now also create an Outlook appointment and/or Outlook task when you send emails with the "Send with Follow Up Reminder" button. Doing so allows your phone to remain in sync with your important reminders.
Spend less time with your computer and more time with the people that matter most to you. Buy your copy today!
And here's what our customers have to say:
"Your Product saved me hours of work. Very efficient and intuitive. Thanks."
- Chris Daniel, Daniel Productions
International Customers
Currency:
Language:
Home, Corporate Sales, Federal/State Sales, Our Guarantee,
Upgrade Policy, Privacy Policy, Sitemap, About Us, Blog, KnowledgeBase
Questions or problems regarding this web site should be directed to webmaster@sperrysoftware.com
Copyright © 2001-2015 Sperry Software, Inc. All rights reserved.
Microsoft and the Office logo are trademarks or registered trademarks of Microsoft Corporation in the United States and/or other countries.
Chat with our Sales Team!