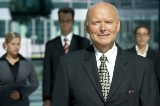 In a complex world, one thing is simple: our customer's right to privacy.
Sperry Software, Inc. is the sole owner of the information collected on this site. Our websites are https://www.SperrySoftware.com/Email-Tools/ and https://www.SperrySoftware365.com.
We will not sell, share, or rent this information to others in ways different from what is disclosed in this statement. Sperry Software, Inc. collects information from our users at several different points on our website, most notably at the time of purchase, while performing technical support, and during the operation of some of the products.
We collect the name, geographical location, and email address of the purchaser and optionally, the email address of the end user. The email address of the purchaser is intended only to allow for verification of the credit card transaction at the time of purchase.  The email address of the end user is used to activate the products on our servers, and in some cases (i.e., subscription based products), to allow continued access.
There is information collected when submitting bug reports (the user's email address, versions of Windows, versions of Outlook, and other items requested in order to respond to the submission). There is no information collected when submitting site suggestions/ product enhancement requests.
Sperry Software reserves the right to cooperate fully with state, local and federal officials in any investigation relating to this web site or its contents (including personal or private electronic communication transmitted on this web site) or purported illegal activities of any user.
Order
We request information from the user on our order form. Here a user must provide contact information ( like name and email address) and financial information (like credit card number, expiration date). This information is used for billing purposes and to fill customer's orders. If we have trouble processing an order this contact information is used to get in touch with the user.  We do not store credit card information on our servers, even in the case of subscription based products.
Cookies
A cookie is a piece of data stored on the user's hard drive containing information about the user. Usage of a cookie is in no way linked to any personally identifiable information while on our site. Once the user closes their browser, the cookie simply terminates. Cookies are only used on this site for keeping track of user supplied data. While cookies are not required on this site in order to browse the site, they are required in order to purchase.
Monitoring Website Performance
We use IP address to analyze trends, administer the site, track user's movement, and gather broad demographic information for aggregate use. IP addresses are not linked to personally identifiable information. The statistics package that Sperry Software, Inc. utilizes is Google Analytics.
Sharing
We use a credit card processing company to bill users for goods and services (PayPal). These companies may retain, share, store or use personally identifiable information for any secondary purposes and it is incumbent upon you to determine their policies.
Reviews and Surveys
From time-to-time our site requests information from users via reviews and surveys. Participation in these reviews and surveys is completely voluntary and the user therefore has a choice whether or not to disclose this information. Information requested is not personal in nature. Review and survey information is used for purposes of monitoring or improving the use and satisfaction of this site, or the products.
Links
This web site contains links to other sites. Please be aware that we Sperry Software, Inc. are not responsible for the privacy practices of such other sites. We encourage our users to be aware when they leave our site and to read the privacy statements of each and every web site that collects personally identifiable information. This privacy statement applies solely to information collected by this Web site.
Discussion Area
This web site provides a public discussion area in the form of site comments. Posting to this area can not be done anonymously; however it should be noted that it can be read by employees as well as the general public. Therefore, caution is warranted when posting personal information.
Security
This website takes every precaution to protect our users' information. When users submit sensitive information via the website, your information is protected both online and off-line.
When our registration/order form asks users to enter sensitive information (such as credit card number), that information is encrypted and is protected with the best encryption software in the industry – SSL. While on a secure page, such as our order form, the lock icon on the bottom of web browsers such as Google Chrome and Microsoft Internet Explorer becomes locked, as opposed to un-locked, or open, when you are just 'surfing'. Follow this link to learn more about SSL..
When an order is processed you are notified via email of your product id. Sperry Software, Inc, uses a proprietary algorithm to encrypt and secure the message from the website to our servers.
While we use SSL encryption to protect sensitive information online, we also do everything in our power to protect user-information off-line. All of our users' information, not just the sensitive information mentioned above, is restricted in our offices. Only employees who need the information to perform technical support are granted access to personally identifiable information in order to verify the original purchase in the case of a technical support call. Furthermore, ALL employees are kept up-to-date on our security and privacy practices. Every quarter, as well as any time new policies are added, our employees are notified and/or reminded about the importance we place on privacy, and what they can do to ensure our customers' information is protected. Finally, the servers that we store personally identifiable information on are kept in a secure environment.
If you have any questions about the security at our website, you can send an email to [email protected].
Email Communications
We send all new purchasers a welcoming email when they order the product for the first time. In addition, this email will have the product id necessary to install and run the products. Prior purchasers will occasionally receive information on product enhancements, special deals, Outlook tips and other useful information in our newsletter. Out of respect for the privacy of our users we present the option to not receive these types of communications. Please see our choice and opt-out when ordering.
Newsletters
Our users are given the opportunity to 'opt-out' of having their email address used for our newsletter. For example, our order form has an 'opt-out' mechanism so users who buy a product from us, but don't want any marketing material, can keep their email address off of our lists.
Users who no longer wish to receive our newsletter or promotional materials from our partners may opt-out of receiving these communications by clicking the unsubscribe link at the bottom of any newsletter or email us at [email protected].
Data Retention
Sperry Software retains user data for two years after a purchase for the purpose of being able to activate the software. In addition, and for as long as their is activity regarding the newsletter (for example, clicking on a link counts as an activity).
Sometimes users download a trial version of the software. In these cases a user can voluntarily offer to send an email that the software pre-writes for them, as a way of introduction. After the trial is over, those emails are deleted unless the trial user becomes a customer.
Users of our site are always notified when their information is being collected by any outside parties. We do this so our users can make an informed choice as to whether they should proceed with services that require an outside party, or not. The list of third party services that Sperry Software uses are:
In addition, we use Microsoft's Application Insight to monitor exceptions and bugs in our Office 365 apps line of products, sent by you. This data is also used to determine which features are heavily used and those that are not. This information includes your IP, email address, name, time zone, and which client (desktop Outlook, Outlook on the web, Outlook for Android, or Outlook for iOS) is being used.
Right to Your Personal Data
Sperry Software honors your right to request your own data and all the information we have about you. To see that data, send an email to [email protected]. To prevent abuse, more than one request per year will result in a $10 charge.
Your Right to Erasure
Sperry Software will also honor your request for erasure. Similar to the request to see your personal data, to begin the process of erasing your personal data, send an email to [email protected].
Notification of Changes
If we decide to change our privacy policy, we will post those changes on our Homepage so our users are always aware of what information we collect, how we use it, and under circumstances, if any, we disclose it. If at any point we decide to use personally identifiable information in a manner different from that stated at the time it was collected, we will notify users by way of an email. Users will have a choice as to whether or not we use their information in this different manner. We will use information in accordance with the privacy policy under which the information was collected.
[Last Review: January, 2021]