Our Best Selling Add-Ins
Shopping Cart
Reply To All Monitor Add-In

for Microsoft Outlook
For Outlook 2013 | 2010 | 2007 | 2003 | 2002 | 2000

SKU: A73164




Highlights:

Prompts you when you are going to reply to everyone - preventing you from sending out potentially confidential information you may not want to share
Saves time by preventing Outlook from including your name and email address in a reply to all message
Prompts you before sending with a confirmation message if you were BCC'ed on the message to prevent you from inadvertently "spilling the beans" that you were BCC'ed on that message
Optional "lock down mode" to prevent changes (for volume/corporate customers only)
Do you need help controlling internal spam? Internal spam are those emails that are responded to when a well-meaning user inadvertently sends out a corporate message to everyone on a large list.

They usually contain ever so helpful messages like "Unsubscribe me" or "You sent this to everyone? Why?" - and the problem is not the initial response, but all the responses after that, because they bring the email servers to their knees.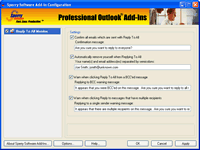 Just ask the system administrators at the US State Department.

Reply To All Monitor helps to avoid these disasters by warning users that they are about to reply to everyone. This simple check is enough to prevent the majority of errors.

The add-in has four built in checks:
...prompts when a reply to all is going to occur
...removes your own name from the list of recipients
...prompts you when it looks like you were BCC'ed on the message
...prompts when you click the "Reply" instead of the "Reply To All" button and there is more than one recipient
Prompts when a reply to all is going to occur, to prevent replies going out to everyone in a large distribution list, and to prevent confidential or embarassing information from going to the wrong people
Optionally only prompts when a reply is destined to go outside your company domains
Removes your own name and address from the list of recipients, to save time
Prompts you when it looks like you were BCC'ed on the message, so that you don't inadvertently reveal that you were the recipient of the blind carbon copied (BCC) message
Prompts when the "Reply" is clicked (instead of the "Reply To All") and there is more than one recipient - to keep everyone in the loop the first time around
Allows the text of each prompt to be customized
Independently control each of these features
Works with, but does not require, Microsoft

®

Exchange Server
Integrates directly into Microsoft

®

Outlook

®

for easy access
Works with Microsoft Outlook 2010 (both 64-bit and 32-bit), Outlook 2007, 2003, 2002 (aka XP), and 2000
All of these features are individually controlled, so that you can just use one or the other independently. And like all the Sperry Software add-ins, they work with Microsoft Exchange but don't require it, requiring just Microsoft Outlook 2000 or higher.

Need more proof? Read these stories from Fortune of people who could have benefitted from this add-in.

More Info: My name keeps appearing when I click reply to all. Why does this happen?

"If you have more than one e-mail address, Outlook will include your mail in the reply to all as it cannot parse the address to whom the original mail was sent. If there is only one mail address for you in Outlook, it will not include you in the reply to all."



- Milly Staples [Outlook MVP]



Note for Exchange users: The add-in will work with Exchange or without, but you might be interested in this answer to a post on Usenet:



"If you are a Microsoft Exchange user, your internet address is always considered a proxy/secondary address. The Exchange Administrator can help you avoid your email address showing up by using the ResolveP2 key on the Internet Mail Connector/SMTP Virtual server that accepts mail for the site."





Our white papers show why having a solution like ours helps not only to avoid internal spam and potentially embarrassing situations, but also how it saves disk space by preventing the unneeded responses in the first place.


Corporate customers - Sperry Software offers signficant volume discounts and custom builds for those firms interested in purchasing volume licenses.
Do you need to prevent information from leaving your corporate domains via email when you send as well? If so, be sure to check out Safeguard Send Add-In for Outlook. It will prompt you when you are composing or replying to certain people, sending an email to too many people, sending an email that is destined to go outside the company domains, plus other safeguard measures.
Free! 2 years of phone and email support
Free! 2 years of upgrades
Plus web chat, email, and phone support to help you get up and running

Sperry Software is dedicated to providing first class support. Two years of upgrades and support are provided with every add-in purchase. We're also on Facebook, and you can read our Blog.
Download a free 14 day trial to get started.
Release Notes
4.1

Added support for Windows 8.

4.0

Added support for Windows 7, Outlook 2010 64-bit and Outlook 2010 32-bit.

3.0.80

New version supports displaying the confirmation even when you right click and select Reply To All. Previous versions did not respond to this event.

3.0.80

Fixed error that prevented sending when viewing items in the Outbox.

3.0.51

Improved the help engine.

3.0.50

Upgraded to work with the newest version of the Microsoft® runtimes (Visual Studio® Service Pack 6).

3.0.48

"Fixed initial SMTP address fetch which caused a problem when ""Remove Self"" option was enabled."

3.0.47

"Added the ability to warn when you are going to reply to all AND you were BCC'ed on that email so you don't inadvertently ""spill the beans"" that you were a BCC recipient."

3.0.43

Added the optional ability to warn when you reply and there were people CC'ed on the message so that you don't have to repeat yourself later on.

3.0.40

"Changed the way the original Reply To All Monitor works so that it prompts you immediately if you want to reply to all, rather than waiting until the ""Send"" button is clicked (so that you don't lose all the composed text)."

3.0.23

Improved help system including HotHelp, which are instructions that appear when you need them most

3.0.1

Created a new Outlook toolbar for easier add-in configuration

3.0.0

Upgraded to work with multiple Outlook profiles on the same machine

1.0.26

Also fixed the bug where multiple copies of the email were saved (one in the Sent Items, one in the Outbox)

1.0.26

Fixed a bug that prevented the Reply To All Self Removal feature from working when the Reply To All Confirmation button was checked and HTML emails were the default format

1.0.21

"Fixed stickiness of ""Enable Self Removal"" checkbox"

1.0.19

Fixed bug when using multiple reply to all buttons simultaneously

1.0.15

Take own name out of replys

1.0.11

Corrected menu insertion error
International Customers
Currency:
Language:

Home, Corporate Sales, Federal/State Sales, Our Guarantee,
Upgrade Policy, Privacy Policy, Sitemap, About Us, Blog, KnowledgeBase
Questions or problems regarding this web site should be directed to webmaster@sperrysoftware.com
Copyright © 2013 Sperry Software, Inc. All rights reserved.
Microsoft and the Office logo are trademarks or registered trademarks of Microsoft Corporation in the United States and/or other countries.
Chat with our Sales Team!
Advertisement


Growing your business?
Our Send Individually Outlook add-in sends an email to each of your recipients, with just one person's name in the To field which increases your response rates. Click here to find out more.