Our Best Selling Add-Ins
Shopping Cart
Save As PDF Add-In

for Microsoft Outlook
For Outlook 2013 | 2010 | 2007

SKU: A78482




Highlights:

Saves all your emails as PDF files
Even saves attachments into the PDF
No PDF printer driver required
Save the emails as they arrive or batch mode - all at once
New! Save As PDF is an all new add-in from Sperry Software!
Our Save As PDF add-in for Microsoft

®

Outlook

®

saves emails (and their attachments) as a single PDF file. Useful for case or project backups, legal discovery, and more. It saves each email into its own PDF file.
Features of the new Save As PDF add-in include:
Integrates directly into Outlook for easy access
Saves an email plus all its attachments to a single PDF file
Runs automatically in the background or catch up quick with manual mode
Monitors multiple folders for incoming email attachments at the same time
Allows for automatic renaming or overwriting of PDF files
Saves the PDF file in a Windows sub-folder (mimics the Outlook folder structure)
Converts .doc, .docx, .xls, xlsx, .ppt, .pptx, .txt, .html, .tif, .jpg, .gif, .png and even .zip attachments
Flag, categorize or move the emails that fail to convert for any reason
Optionally prints the PDF as a single print job (note: this feature requires the Auto Print Add-In)
Works with Microsoft Outlook 2013 and 2010 (both 64-bit and 32-bit), and Outlook 2007 (note: not Outlook 2003 or below)
There's no clunky PDF printer driver required, this add-in does all the work and contains everything you need to start creating PDF files out of your inbox.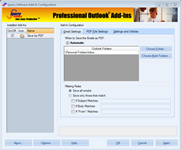 The add-in first converts the email to PDF, then takes each attachment and inserts that into the PDF as well. It works on Microsoft

®

Word

®

files (.doc and .docx), Microsoft Excel

®

files (.xls and .xlsx), Microsoft Powerpoint

®

files (.ppt and .pptx), plain text files (.txt), HTML files (.htm and .html), PDF files, image files (.tif, .jpg, .gif, .png, plus other image file formats) and even unpacks compressed zip files!

If there are any problems along the way (for instance, AutoCAD

®

drawings or other proprietary formats), the add-in has the ability to move the email to another folder (which is useful if you're using batch mode to generate a bunch of PDF files all at once, so you can easily see which ones cannot be converted), it can include the file as an attachment in the PDF, or it can simply flag that email with a category so you can go back later to see which ones cannot be converted.

The add-in can also print the PDF once it has generated it. It does not queue the email, then the attachments - this can lead to out of order printing. What it does is submits the PDF as a single print job to guarantee that each email is followed by its attachments in the printer, in order. Note that this feature requires you to have the Auto Print add-in, sold separately.

This add-in is perfect for in-house archiving, legal discovery, compliance, and more. Buy your copy today!
And here's what our customers have to say:
"Love it. Simple. Two of us did a lot of research to find some user-friendly management-type/data recognition, etc. software and found Sperry. Without spending a minimum of $20k and re-working our entire system, it seems to be the easiest approach to be able to label and search for items. Even our computer techie couldn't find anything better.
Kudos to you. Some of your other add-ins look pretty great as well."
- Ellen Hart, Pietzsch, Bonnett & Womack, P.A.
"I only waited because of all the os changes with Microsoft and Apple. But I can highly recommend this pdf email saver to anyone in real estate, this is a basic need for saving documentation over time! i've been looking for a solution for a very long time...thank you! "
- Marjory Bare, WA, United States
Free! 2 years of phone and email support
Free! 2 years of upgrades
Plus web chat, email, and phone support to help you get up and running

Sperry Software is dedicated to providing first class support. Two years of upgrades and support are provided with every add-in purchase. We're also on Facebook, and you can read our Blog.
Download a free 14 day trial to get started.
International Customers
Currency:
Language:

Home, Corporate Sales, Federal/State Sales, Our Guarantee,
Upgrade Policy, Privacy Policy, Sitemap, About Us, Blog, KnowledgeBase
Questions or problems regarding this web site should be directed to webmaster@sperrysoftware.com
Copyright © 2013 Sperry Software, Inc. All rights reserved.
Microsoft and the Office logo are trademarks or registered trademarks of Microsoft Corporation in the United States and/or other countries.
Chat with our Sales Team!