A while back we wrote an article about how it is important to convert emails to PDF as soon as feasible since it's possible that images that are linked to in emails can be taken down and archived. Once that happens, the email no longer renders properly but rather gets a giant blank square with a red 'X' in the upper right.
More importantly, once this happens saving emails to PDF still occurs (with both the Save As PDF add-in and the Save As PDF Pro add-in) but they will both suffer from taking an inordinate amount of time. This is because of the way the add-ins work under the hood; they both rely on 3rd party products that attempt to fetch the images from the internet. Because servers can take some time to respond, its not unusual to have delays of two to five minutes each.
But the important thing to note here is that given enough time, the add-in will complete its job and create a PDF out of the email (and/or attachments). The resulting output will look like it does when you pull up the email in Outlook, complete with the large blank area where the image should be.
While we make plans to correct this issue (e.g., pre-process the email to look for links to non-existent images) we did create a workaround that helps to mitigate it.
This new feature, added to Save As PDF Pro (only), is the ability to schedule your rules to run whenever you like. You can access this new feature right from the Save As PDF Pro add-in for Outlook itself, when you go to edit (or add) a rule: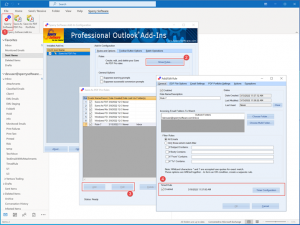 It's done like that so that each rule can have it's own independent schedule. For example, you can start one rule processing at midnight and allow the process to continue overnight, while allowing another rule to save say, emailed expense receipts to your OneDrive folder on the last Friday of the month at 1pm.
The rules mimic the same scheduling functionality that the Schedule Recurring Email add-in has. So, you can run your rules and save emails to PDF on an hourly, daily, weekly, monthly or even yearly schedule.
We hope that this new feature will be useful to you to allow processing during non-peak times. Are there any other add-ins where it would be useful to allow a schedule like this? Let us know in the comments below.