Our Best Selling Add-Ins
Shopping Cart
Power Rules Manager Add-In

for Microsoft Outlook
For Outlook 2013 | 2010 | 2007

SKU: A76482




Highlights:

Sort your Outlook rules alphabetically
Print Outlook rules
Easily fix your rules
Save space in your Outlook rules
Manage your rules from a terrific grid view
Do you have broken rules and feel limited by the Outlook rules wizard? The Power Rules Manager add-in for Microsoft

®

Outlook

®

simplifies managing your Outlook rules. Your rules will be shown in a clear and simple grid so you can take control of your rules.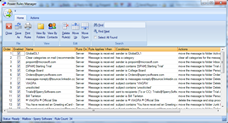 Features of the new Power Rules Manager add-in include:
Adds a toolbar button directly into Outlook for easy access to your rules
Easily sort Outlook rules by name, what order they run, by the folders involved in the rule, by the people involved in the rule, and more
New! Drag and drop your rules to change the execution order
Set Execution Order feature allows you to easily set the execution order of all your rules at once
Print your Outlook rules
Easily edit rules inline in the grid
Save Outlook rules to a plain text file (TXT), a comma delimited file (CSV), or Microsoft

®

Excel

®

(XLS) formats
Find/Find Next feature allows you to quickly hone in on the rules that matter most to you
Backup and Restore your rules (to an editable XML file)
Bulk replace folders to all your rules at once
Fix rules with the Validate Folders and People button
Save space in your Outlook rules with the Consolidate Rules and the Find and Repair Duplicate Rules button
Easily execute selected (or all) Outlook rules against folders you select
Works with Microsoft Exchange Server but doesn't require it
Works with Microsoft Outlook 2013 and 2010 (64-bit and 32-bit) and Outlook 2007 (note: not Outlook 2003 or below)
There are five validation checks built into the add-in. You can flag duplicate rule names, find and repair duplicate rules, validate and automatically correct missing Stop actions, verify folders and contacts involved in each rule, and consolidate/merge your rules. Each of these checks has their own button so you can invoke them separately to check Outlook rule consistency at any time. The Validate Stop Actions feature alone is worth the price of the add-in because it will flag all the rules that have a move action but no corresponding stop processing more rules action. Not having a stop processing more rules action is a primary reason for getting duplicate emails.

The add-in also helps you to save space in your Outlook rules by making it easy to consolidate your rules. Not only does it have the ability to sort your rules by the folders involved so you can quickly see which rules are similar, but you can now simply click the "Consolidate Rules" button to have rules that have identical actions merged into a single rule! Merging Outlook rules saves a lot of space. For instance, if you know that you have three rules that move messages into a particular folder, but based on different conditions, then those three rules can be coalesced into a single rule with all three conditions.

Simplify managing your Outlook rules. Buy your copy today!
And here's what our customers have to say:
"I have nearly 900 Outlook rules that I use everyday (obviously, not through an Exchange server!). This was a nightmare to manage using Outlook alone. Power Rules Manager turned my Outlook rules nightmare into a dream. I really appreciate this product! Sperry and PRM deserve a 5 star rating all around!"
- Gary D. Collier, Indiana, US
Tip: How to save space in Outlook rules
Outlook rules sometime run out of space. To fix this, follow these 8 simple tips to save space in Outlook rules.
Tip: How to import Outlook rules
Are you having trouble importing your rules, or trying to fix your rules after a botched import attempt? If so, read this article: How to import Outlook rules (and fix problems along the way).
Note: You might want (or need!) a completely separate rules engine
If you're having trouble with running out of space in your rules, you might want to try our Timed Email Organizer. It will import your Outlook rules, allows for ANDs and ORs in the conditions, and even allows operations on emails as they age.
International Customers
Currency:
Language:
Home, Corporate Sales, Federal/State Sales, Our Guarantee,
Upgrade Policy, Privacy Policy, Sitemap, About Us, Blog, KnowledgeBase
Questions or problems regarding this web site should be directed to webmaster@sperrysoftware.com
Copyright © 2001-2015 Sperry Software, Inc. All rights reserved.
Microsoft and the Office logo are trademarks or registered trademarks of Microsoft Corporation in the United States and/or other countries.
Chat with our Sales Team!