New rules are made to run first by default
Your main company rule(s) are now created on your behalf when a new subdomain gets added or creating a new test user
New condition allows you to prompt when not just two different domains are encountered, but rather when two different companies are listed as recipients
  The new features are each more fully explained below: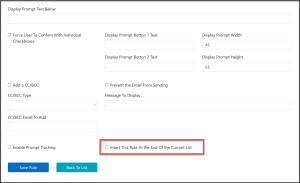 1) When creating rules in the dashboard, previously the add-in would default to adding the new rule to the bottom of the list (where it would run as the last rule in the list, assuming that no other rules had already prompted the user).  But, what if you wanted a particular rule to run before the other rules you already have?  Starting this month, the default when you go to create a new rule is to place it first in the order of evaluation.  If you do actually want the rule to run last, simply check the box that says "Insert this rule last in the list".
  2) In the dashboard, when adding new rules for a new company subdomain (or even for a test user in your current domain(s)), there was only a default rule created.  Now, all the rules that exist in your company's main domain are automatically copied over so that you do not have to recreate each of them. If you need to start from a clean slate, it's a lot easier to simply delete existing rules than recreate them all manually.
  3) We are adding a new rule condition by customer request.  This customer works with many large financial institutions and has several hundred employees.  In the day to day operations, these employees need to send emails to these large financial institutions.  However, occasionally a mistake will be made and the employees will inadvertently include several different companies exposing sensitive information.  This error frequently results when the companies have multiple different domains (and subdomains) and if these mistakes are made, it could result in the loss of one or both companies as a customer.
  So, to tackle this issue we created a new condition that will force the user to email only one company at a time.  It works by having you specify all the domains that a particular company has.  Then when an employee sends an email, Safeguard Send looks to see if any of the recipients are from any of the companies.  Once found, then the add-in allows recipients that have any of that company's particular domains to go through but if there are any other recipients going to any other companies, then the add-in immediately prompts the user to let them know that they are sending an email to two different companies.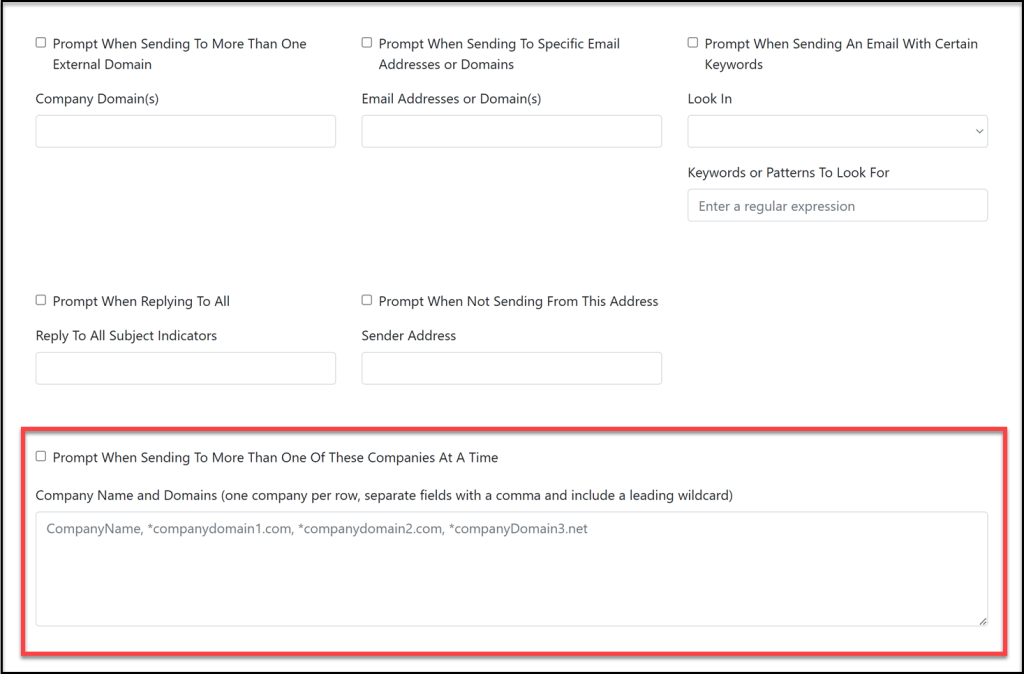 The new feature (called "Only One Company") allows users to send emails to multiple recipients whose domains that belong to the same company. This feature is useful for financial and legal firms and really anytime a small but important list of clients and their domains are known ahead of time.  It forces users to email only one company at a time, regardless of how many recipients have different email addresses – as long as all those recipients belong to the same company. This feature differs from the other condition that warns you anytime that you send to two different domains because it allows users to send to three, four or however many domains that the company has.  The one caveat is that you must know the domains of your target companies in advance.  If you don't know the domains, then the existing feature to prompt whenever there are more than one external domain present can be used.
  We hope that these new features will continue to lower the chance that mistakes are made when sending email!