Recently Microsoft issued a security update for Outlook that is causing a problem with all our version 7.1 (desktop) add-ins, but only if you are also on Windows 10 (Pro or Home).
The symptom is this: When you go to send an email, the email goes into the Outbox, but then the mailbox becomes disconnected. Attempting to reconnect does not help, and Outlook must be restarted.  Here's a screenshot that one of our customers sent us of Outlook in the disconnected state.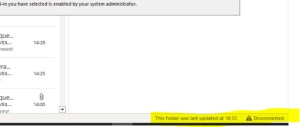 If the add-in is disabled, then everything works like normal, but that's like saying "yes, ships are safe in the harbor, but that's not what ships are for." In other words, we need the add-in to work AND not cause the mailbox to be disconnected.
To fix this problem, you'll need to either upgrade to Windows 11 (more difficult) or upgrade your add-in to v8.0 (less difficult). So far, the reports of users with this problem of Outlook disconnecting have all had both Windows 10 and version 7.1 of the add-in.
You can check which version you have by going to (in Outlook) Sperry Software…click on the red/blue gear icon to pull up the Configuration window, then click on the About button in the lower left (highlighted in the red box):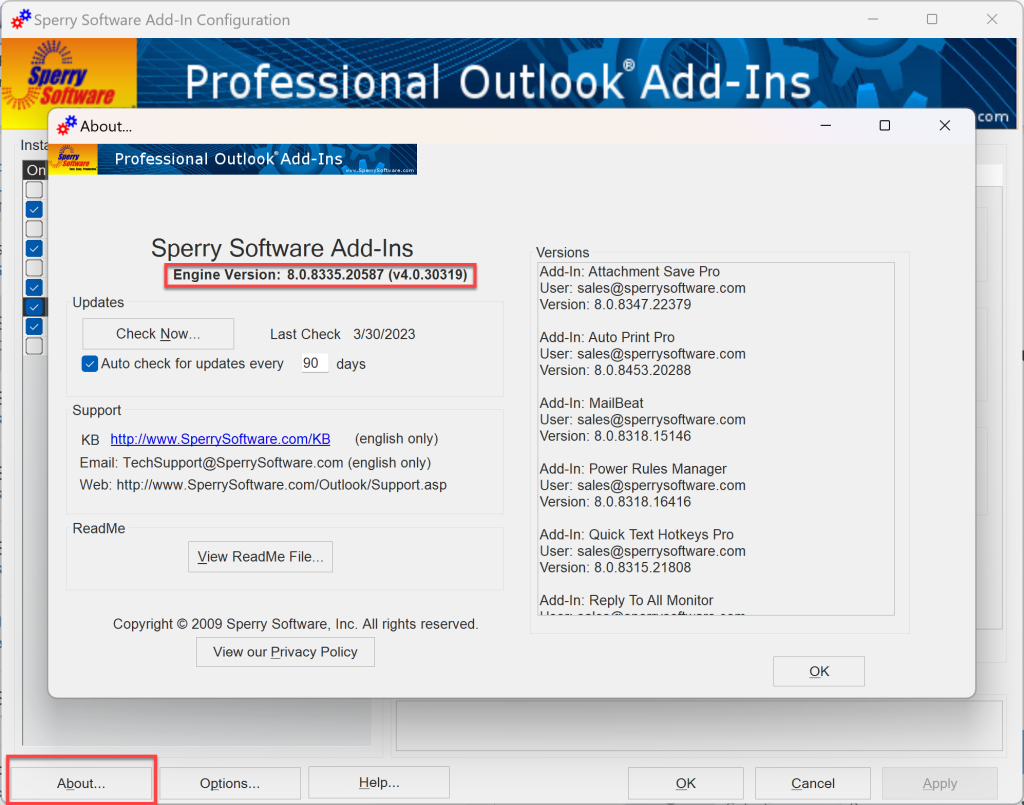 Note that the image above shows version 8.0, but if it says Version 7.1.X.Y then you might be susceptible to this problem, and we recommend upgrading to v8.0. Note that while v8.0 does not list Windows 10 as an officially supported operating system, at the same time it doesn't prevent it from installing.
To upgrade, click on the "Check Now…" button in that same About window.
And that's all there is to it!  Note that if you have to manually upgrade, that all of our downloads indicate that Windows 10 is not supported, only Windows 11.  So while it isn't officially supported, we don't prevent v8.0 to be installed on Windows 10, so you'll be good to go.
If you have trouble or questions with this process please contact us.