Last month we talked about how to check for updates, but if you wanted to see what versions were out and/or the release dates that couldn't be done.
Now you can. The What's New page has been revamped to include the "last updated on" dates and newest versions of all desktop add-ins.
It's now slipstreamed into the build process of the add-ins. For instance, we can see that Save As PDF Pro was the most recently updated add-in, and version 7.1.8258.26153 was released on Aug 11, 2022 (as of this blog post that is, it may have changed by the time you read this).
One final item to being to your attention – the "Sperry Software Engine" row refers to the framework that is common between all our add-ins. This version number corresponds to the version in the About window that is on the left hand panel, here: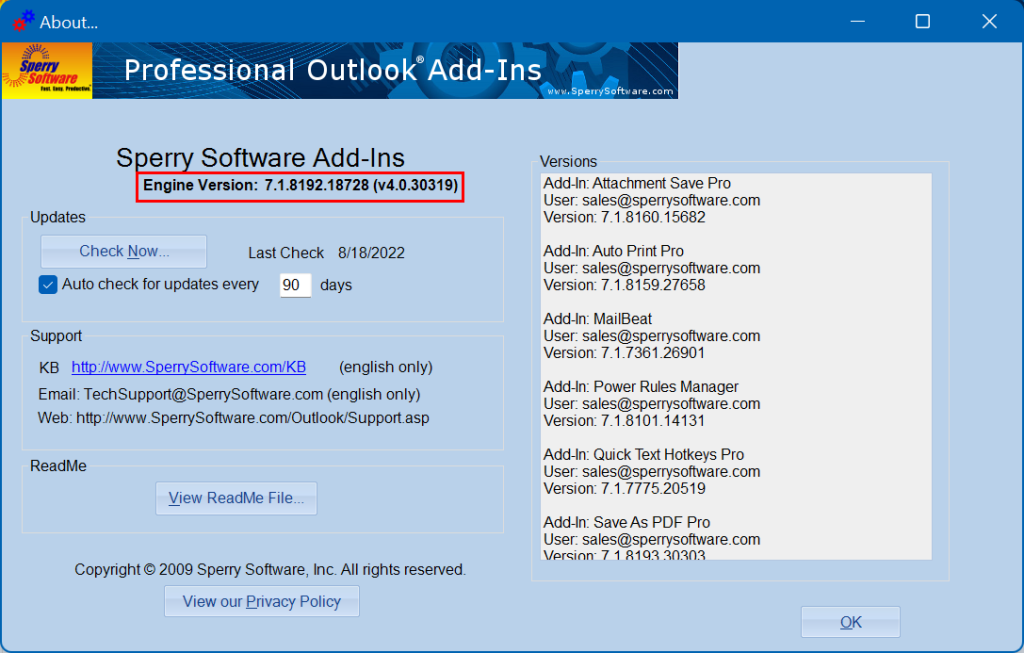 Whenever we update the "Sperry Software Engine", it automatically causes an update for all add-ins, because (as mentioned) that component is used in all add-ins. The way the system works is that it first checks your engine version, then if your engine version is already up to date, then the system checks your individual add-in(s) to make sure they are up to date.
Going forward we will work on giving you notice about WHAT was changed.