Sperry Software's Safeguard Send: The New Dashboard Feature for Microsoft 365
Sperry Software is a renowned provider of software solutions for email management. Their flagship product, Safeguard Send, is a Microsoft 365 Outlook add-in that enables users to send sensitive information more securely. With the growing importance of data privacy and security, Sperry Software has recently added a new dashboard feature to Safeguard Send. In this blog post, we'll take a closer look at this new feature and how it enhances the functionality of Safeguard Send.
What is Safeguard Send?
Safeguard Send is a Microsoft 365 Outlook add-in that provides users with a secure way to protect sensitive information when using email. It examines any outgoing email and prompts you if the email is going outside your company, showing you the exact email addresses and attachments: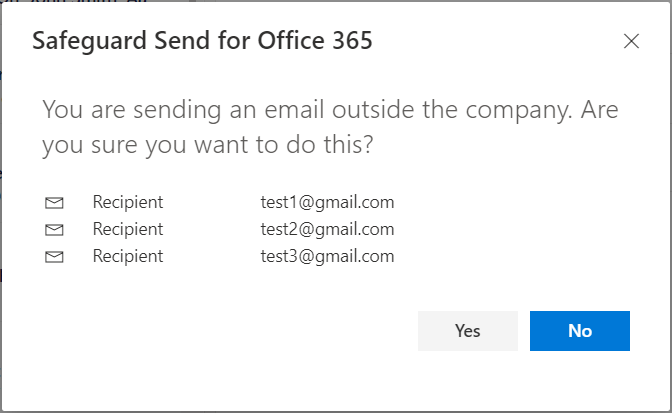 It can also prompt if the email contains personally identifiable information (PII), if the email has over a certain number of recipients or attachments, or if there are recipients in more than one company (so you don't accidently spill the beans between your customers).  It does all this through the use of rules.
What is the New Dashboard Feature?
The new dashboard feature is a web-based application that allows admins to manage their Safeguard Send rules in one convenient location. Admins can access the dashboard from any device with an internet connection, making it easy to manage their secure messages on-the-go.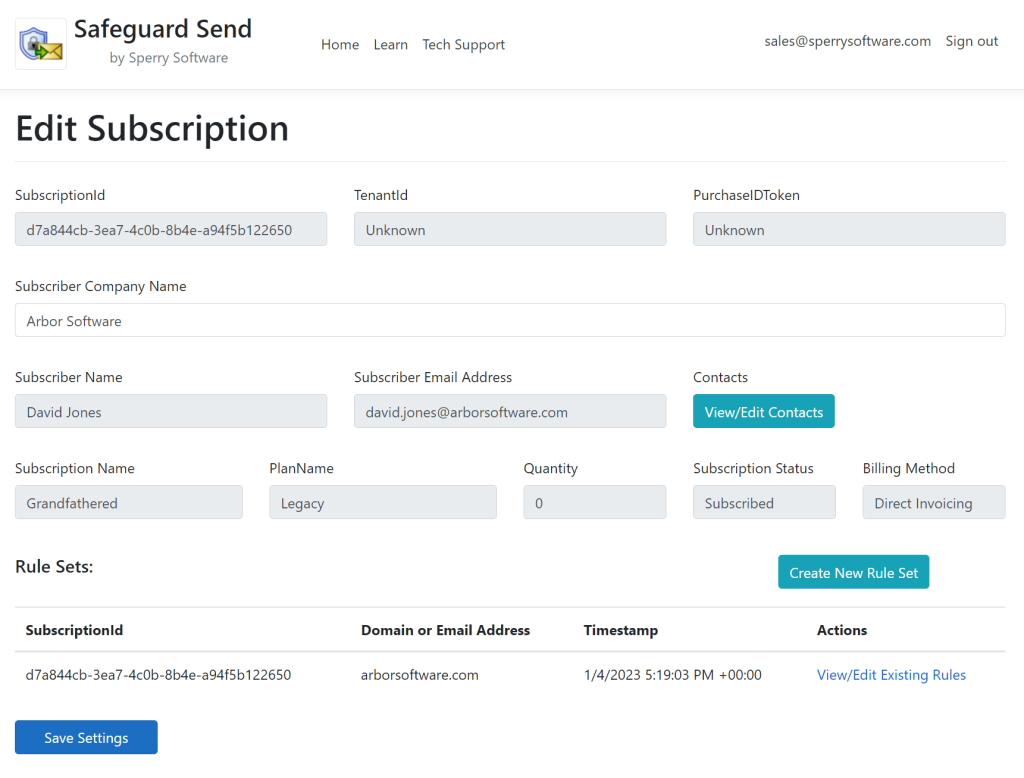 How Does the Dashboard Feature Work?
When a user sends a message through Safeguard Send, the rules are read from the Sperry Software servers, and then applied against the outgoing email. The rules are only read by the sender.
With the new dashboard feature, users can log in to the Safeguard Send website and access their messages from one central location.
The dashboard allows administrators to view all of their rules, along with details such as the conditions under which various rules fire, what text the prompt shows, and other options. Admins can also add/remove rules for individual users or revoke access altogether for any of the company domains directly from the dashboard.
Why is the Dashboard Feature Important?
The dashboard feature is important for several reasons. First and foremost, it enhances the usability of Safeguard Send. With the new dashboard, admins can easily manage all of their rules for all of their company domains in one location, without having to contact Sperry Software to change anything.
How Can You Get Started with Safeguard Send and the Dashboard Feature?
Getting started with Safeguard Send and the dashboard feature is easy. Simply visit the Sperry Software website and sign up for a Safeguard Send for Microsoft 365 account (there's a free trial there). Once you have an account, you can add the Safeguard Send add-in to Outlook and start sending secure messages right away. To access the dashboard, simply log in to the Safeguard Send Dashboard website using your Microsoft 365 account credentials.
Conclusion
The new dashboard feature is a welcome addition to Sperry Software's Safeguard Send add-in for Microsoft 365. It provides users with a convenient way to manage their secure messages and enhances the functionality of Safeguard Send. With its advanced encryption algorithms and other security features, Safeguard Send is an excellent tool for protecting sensitive information. And with the new dashboard feature, sending secure emails is now easier and more convenient than ever.
FAQs
Can I use Safeguard Send with other email clients besides Microsoft 365?

No, Safeguard Send is currently only available as an Outlook add-in, and is not available on Gmail, however it DOES work with outlook.com accounts.

Can I customize the appearance of the dashboard?

No, the dashboard currently does not offer customization options.

How do we deploy Safeguard Send to all our users?